Backorder / Next Shipment June 2023
Pro-Line Racing -
Item No.
PRO278600
1/10 Carbine Front/Rear 1.9" 12mm Rock Crawler Wheels (2) Black
Dually Wheels are Perfect for your Military or Extreme Off-road Build
Includes a Pair of Dually Wheels for 4 Tires (2 tires per wheel) Download Assembly (pdf)
Can Be Used as a Single Tire Wheel
Go Beyond Dually and Add as Many Tires as you Want
Includes Wheel Nut Cover
(2) Carbine 1.9" Wheel Face
(2) Dually Wheel Center Tube
(2) Black Plastic Wheel Back
(4) Black Plastic Internal Bead-Loc Ring
(2) Narrow offset 12mm hex
(2) Wide offset 12mm hex
(2) Wheel nut retaining tube
(2) Wheel nut cover
(48) M2.5 x 8 SHCS
Quick Links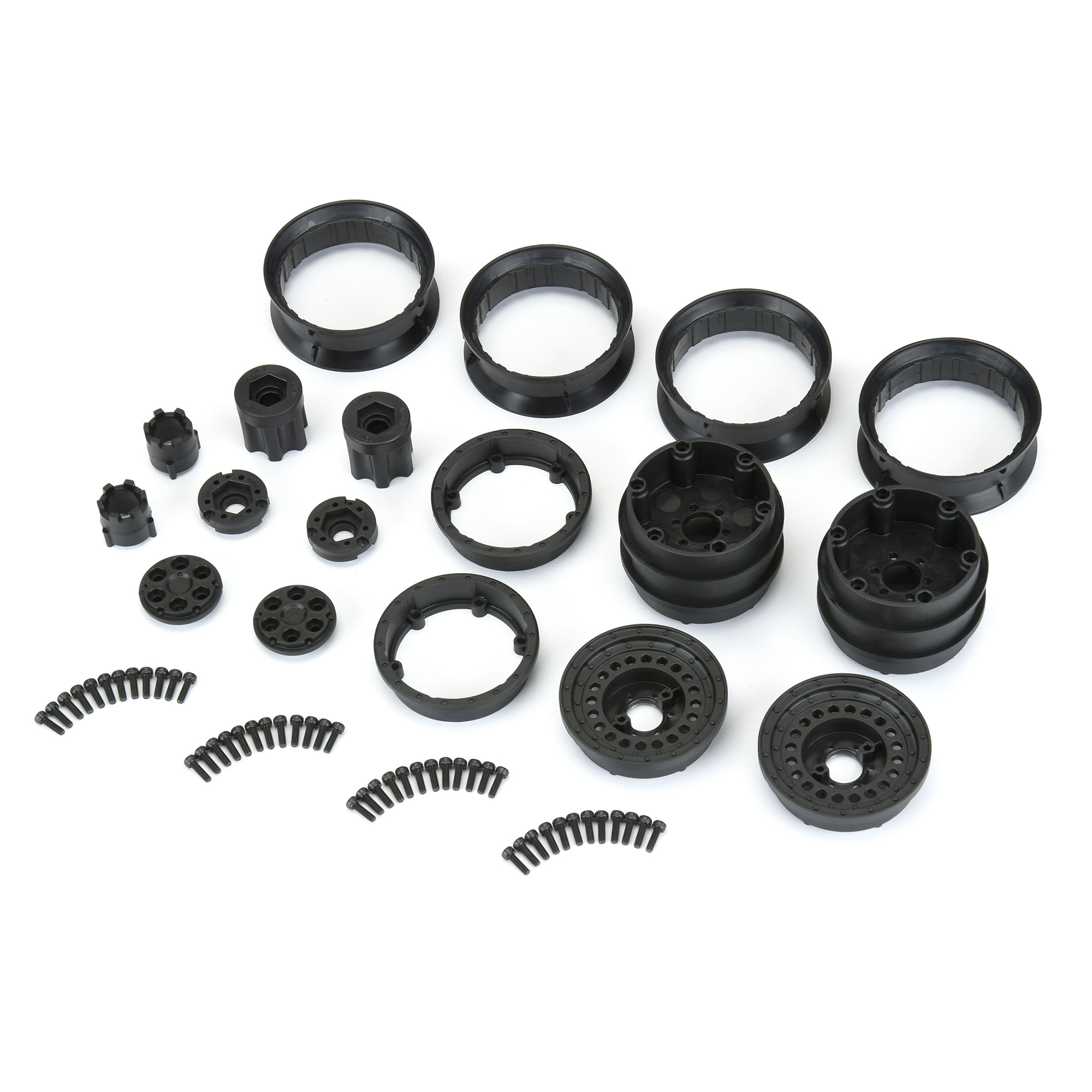 Overview
This is a pair of Carbine 1.9" Black Plastic Internal Bead-Loc Dually Wheels. Pro-Line is proud to introduce our Carbine 1.9" Dually Wheels! This pair of Carbine dually wheels will go perfectly with your next military-style or extreme off-road build and will fit 4 standard 1.9" tires, 2 tires per wheel. The best part of the Carbine is the modular wheel design that allows it to be used as a single tire wheel, dual tire wheel, or you can keep adding as many tires as you want with the addition of more Carbine wheels! The face of the Carbine 1.9" wheel features 20 small holes with molded-in bead-loc detail for a tough military look. The included scale wheel nut cover attaches with two screws and completes the rugged appearance. The Carbine Dually wheel includes two optional 12mm hex offsets to fit both straight axles and portal axles and to give you the option for a narrow or wide offset. If you are looking for dually wheels for your build, then look no further than the most advanced wheels to date. Get your very own pair of Pro-Line modular Carbine 1.9" Dually Wheels today!
Please note: All tires & wheels are sold in pairs, unless otherwise noted
PRO278600 | Carbine 1.9" Black Plastic Internal Bead-Loc Dually Wheels (2) for Rock Crawlers Front or Rear
Features
Dually Wheels are Perfect for your Military or Extreme Off-road Build
Includes a Pair of Dually Wheels for 4 Tires (2 tires per wheel) Download Assembly (pdf)
Can Be Used as a Single Tire Wheel
Go Beyond Dually and Add as Many Tires as you Want
Includes Wheel Nut Cover
Two Optional 12mm Hex Offsets to Fit a Wide Variety of Applications
Fits Pro-Line's 1.9" Crawling Tires with the Grunt Being the Most Ideal Size
Hex Head Screw Hardware Included
Made in the USA, since 1982
Fits
1:10 Rock Crawlers Front or Rear with 12mm Hex
Product Fitments
No results for your given fitment filters
PRODUCT SPECS
Track Surface
Rock Crawling
Wheel Position
Front/Rear
Inner Tire / Outer Wheel Diameter
1.9 in
Vehicle Type
Rock Crawler