About Axial
Axial is where RC adventures begin! With an Axial radio control rig, you're sure to have the most exciting and enjoyable off-road RC adventures possible — whether you're exploring trails while hiking with friends and family or joining other RC rock crawling fans for a club outing or radio control crawling event.
We want to give you as many opportunities as possible to have the most fun imaginable with the RC hobby that you love. We're proud to share the Axial brand, from our award-winning legacy RC vehicles to the popular RC rigs that represent the Axial product line today. Explore the site. You'll also gain access to information and tools from the Axial team that will help you get maximum enjoyment out of your RC rock crawling experience. Learn about upcoming RC crawling events. Read about the Axial team's latest adventures on the Blog page. Stay up to date with our social media and download Axial Adventure graphics for your own use.
Is there anything you wish Axial had on this site that we don't? Anything we do have that you'd like to see handled a little differently? Please let us know! We want to provide you with the resources you need for the very best Axial experience. Be sure to share your Axial RC rock crawling adventures with us, and we'll do the same. See you out on the trail!
Our History
The first RC rock crawling vehicles appeared in the early 1980s but only looked the part. It took Axial®, founded in 2005 and based in California, to incorporate full-scale off-road design elements into the RC rigs that now represent the best in the radio control crawler category. Axial products have earned fans of all ages who enjoy the realism, camaraderie, and adventure that are unique to this fast-growing segment of the RC car and truck hobby.
The initial Axial product lineup consisted of a nitro RC engine and miscellaneous RC accessories. Seeking their own niche, however, the Axial founders — avid off-road enthusiasts who loved camping and the outdoors — soon realized that RC crawling fit like a glove.
The Axial AX10™ Scorpion, released in 2007, propelled radio control crawling into the mainstream. Anyone could build and drive it. Even hardcore full-scale off-road enthusiasts admired the realistic looks, articulated suspension, and big tires. The AX10 quickly became the most influential RC rock crawler in the industry!
Many more successful Axial platforms have followed the AX10. With more emphasis on scale, the SCX10™ became the perfect foundation for another RC crawler hobbyist passion — creating the most detailed and realistic looking rigs. Axial also signed a major licensing agreement with Jeep®, the first of many such connections forged between Axial and the most popular full-scale automobile brands.
As its catalog has grown, so has the community of Axial RC rock crawler owners who enjoy gathering on the trails, showing off their rigs, sharing ideas, and learning from each other. Axial sponsors two annual, family-friendly RC rock crawling events, Axialfest West in California and Axialfest Badlands in Indiana, for just that purpose. There's no better time to camp out, hike the trails, and have fun running Axial rigs!
Axial was acquired by Horizon Hobby®, LLC in 2018 and is now a global brand leader of hobby grade radio control products. With every new RC rig platform, from the 1/24 scale SCX24 to the 1/6 scale SCX6, Axial aims to raise the bar even higher. Whatever you imagine as your "dream" vehicle, you can own it with Axial and experience real off-road adventures.
2005

NITRO ENGINES

2007

AX10

2008

SCX10

2010

XR10

2011

WRAITH

2011

EXO

2014

YETI

2014

YETI XL

2015

WRAITH SPAWN

2015

RR10 BOMBER

2016

SCX10 II

2016

SMT10

2016

YETI JR.

2019

WRAITH 1.9

2019

UMG10 6X6

2019

SCX24

2019

UTB10 CAPRA

2020

SCX10 III

2021

RBX10 RYFT

2021

SCX6

2022

UTB18

2023

AX24

2023

SCX10 Pro
OUR MISSION
Axial® exists to share the adventure lifestyle. We make Axial radio control rigs for those who yearn to go out — RC vehicle in hand — and journey off the beaten paths, explore the unpaved world, discover where unfamiliar trails lead, and create memorable outdoor experiences with family and friends.
The passion for adventuring with off road RC cars and trucks runs deep within the Axial team. Our product developers closely follow what's hot and trending in the world of full scale motorsports. Their personal interest and expertise enable Axial to offer durable, high performance RC model versions of the real off road vehicles you see trailing in the great outdoors.
The Axial team takes special pride in combining authentic looks with realistic and reliable operation. We develop partnerships with the most popular full size automotive brands to maximize the scale appeal of our radio control rigs to full size off road enthusiasts.
Axial RC vehicles deliver low maintenance, go-anywhere fun that anyone can enjoy. Whether you're a beginner RC modeler or a long time RC car and truck hobbyist, Axial has the perfect platform for you to personalize and enjoy in every outdoor environment.
Wherever your trails lead, we hope you'll share your Axial adventures with us. Start your journey and have fun!
AWARDS
The highest honor for Axial® is to hear RC off road enthusiasts describe the fun and the excitement that our radio control rigs give them on the trails. We know we're getting it right when fellow RC trailing enthusiasts spot us at events and take the time to say, "Good job!" Our top priority, after all, is to produce RC car, truck, and buggy platforms that can take you anywhere you want off road and be ready for any type of terrain you might face. Your Axial rig should lead you on thrilling outdoor RC adventures, not interrupt the experience to require repairs.
Of course, we're pleased that well-known and respected RC hobby industry publications recognize and recommend Axial products. RC Car Action, RC Driver, RCCrawler.com, and more have honored Axial radio control vehicles for bringing game-changing innovations to their respective categories. Axial RC rigs frequently rank #1 in Readers' Choice polls as well, and for that we'd like to offer a heartfelt "Thank you."
Axial doesn't take your praise lightly. We're proud of the honors we've received for legacy products including the Axial AX10™ Scorpion and Axial XR10™ MOA Builder's Kit to continuing platforms such as the Axial SCX10. Rest assured, the best is yet to come.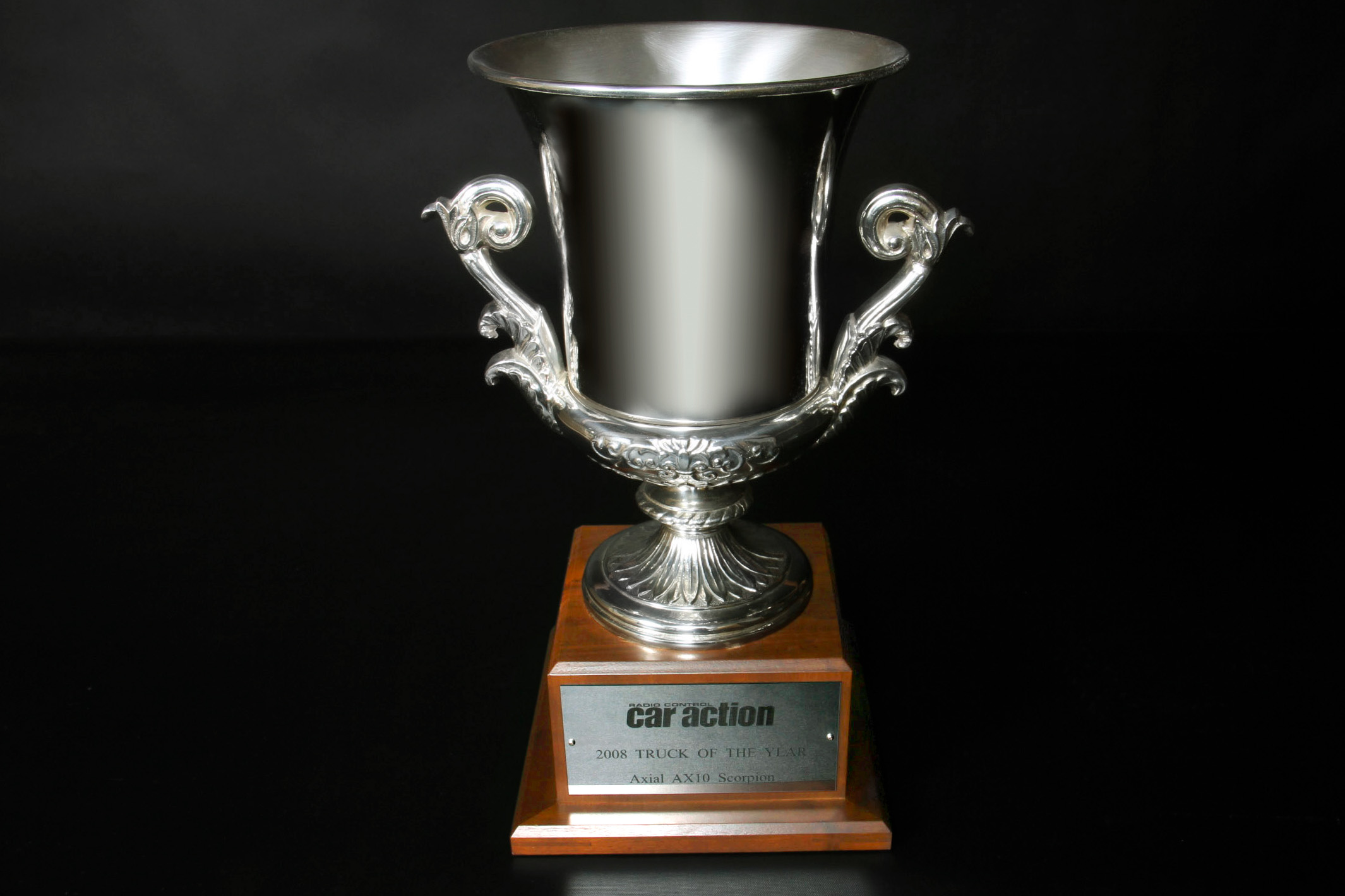 2008
RC Car Action Truck of the year AX10 Scorpion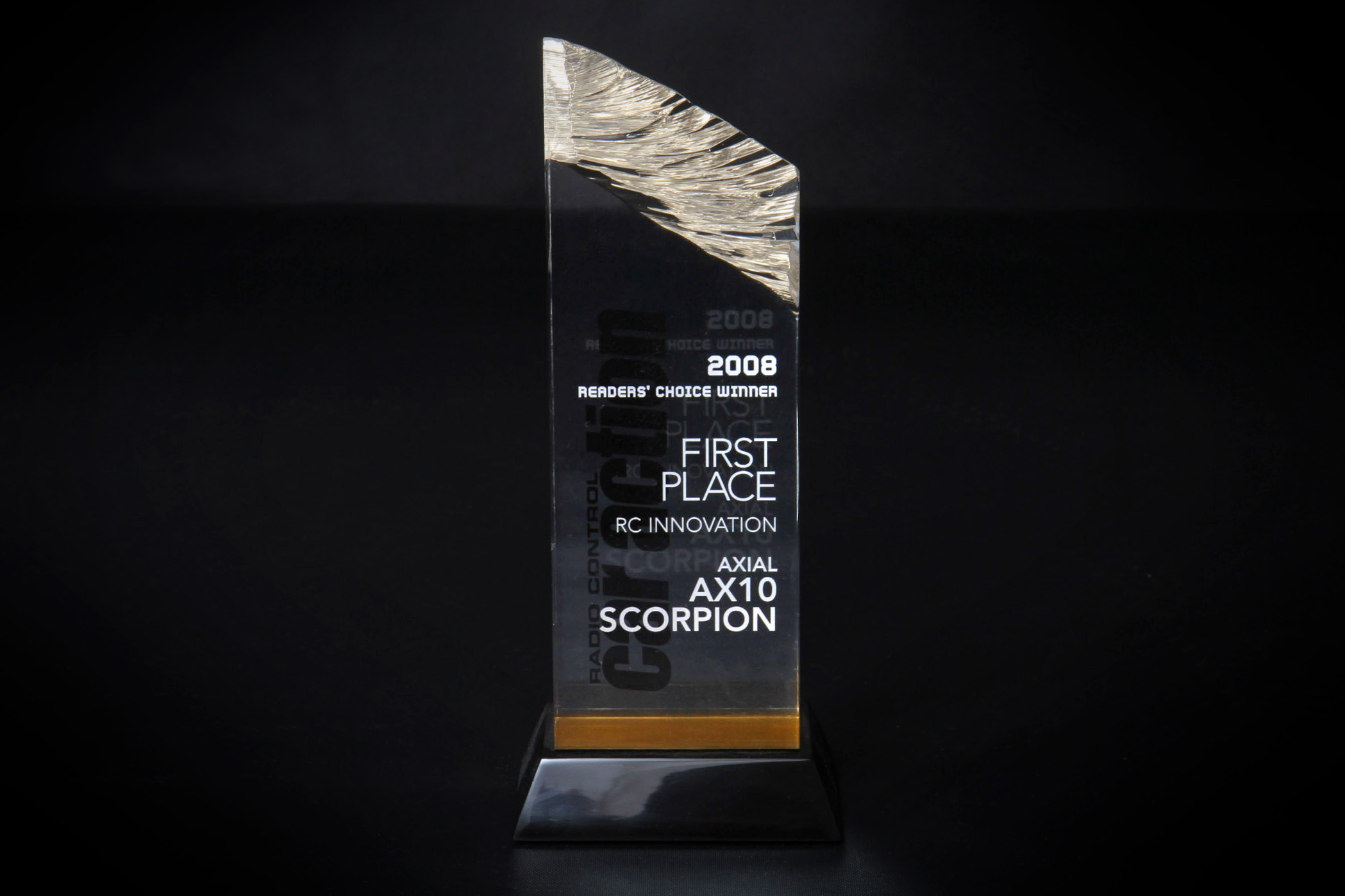 2008
RC Car Action RC Innovation AX10 Scorpion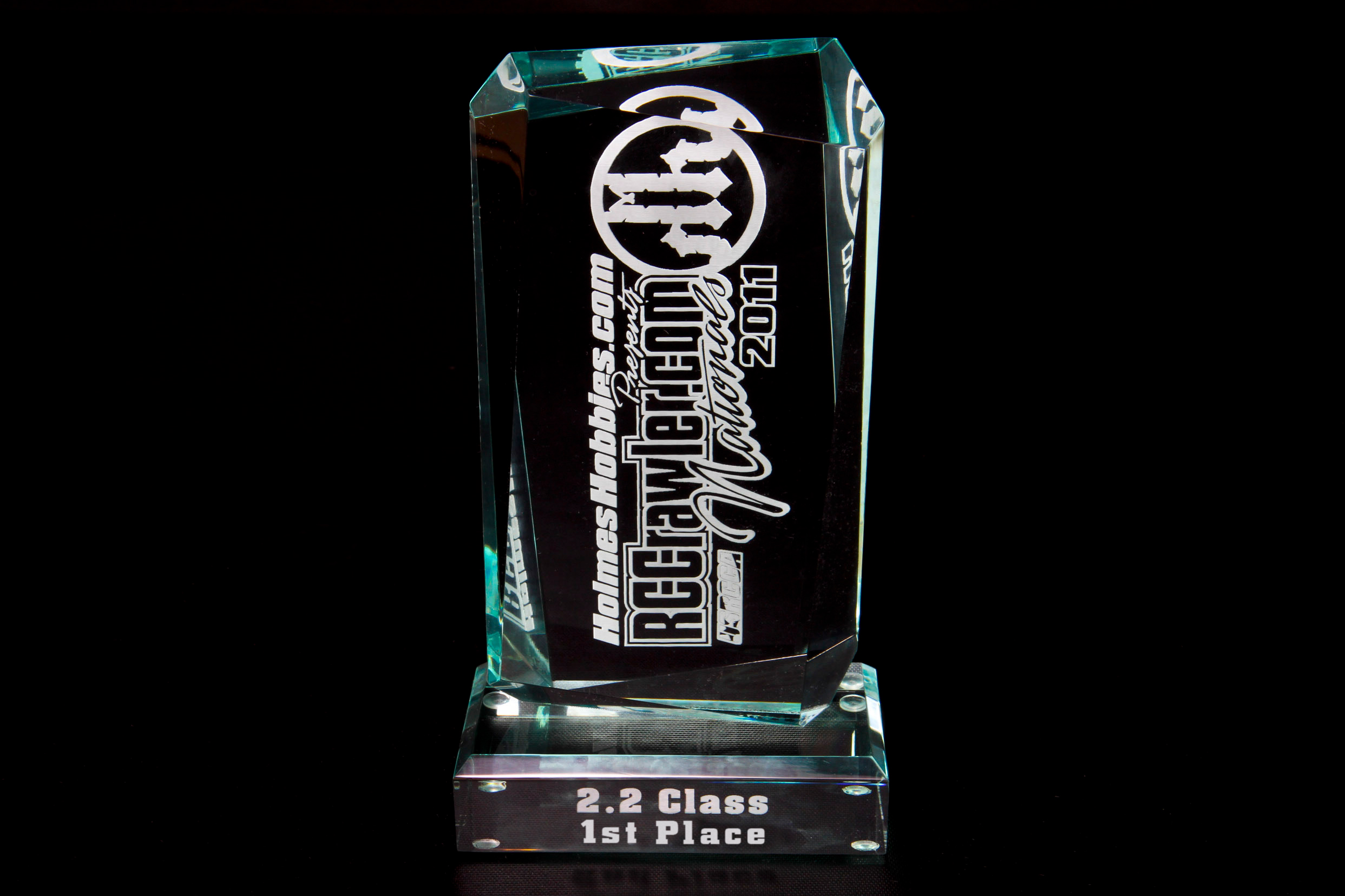 2011
USRCCA National Championship 1st Place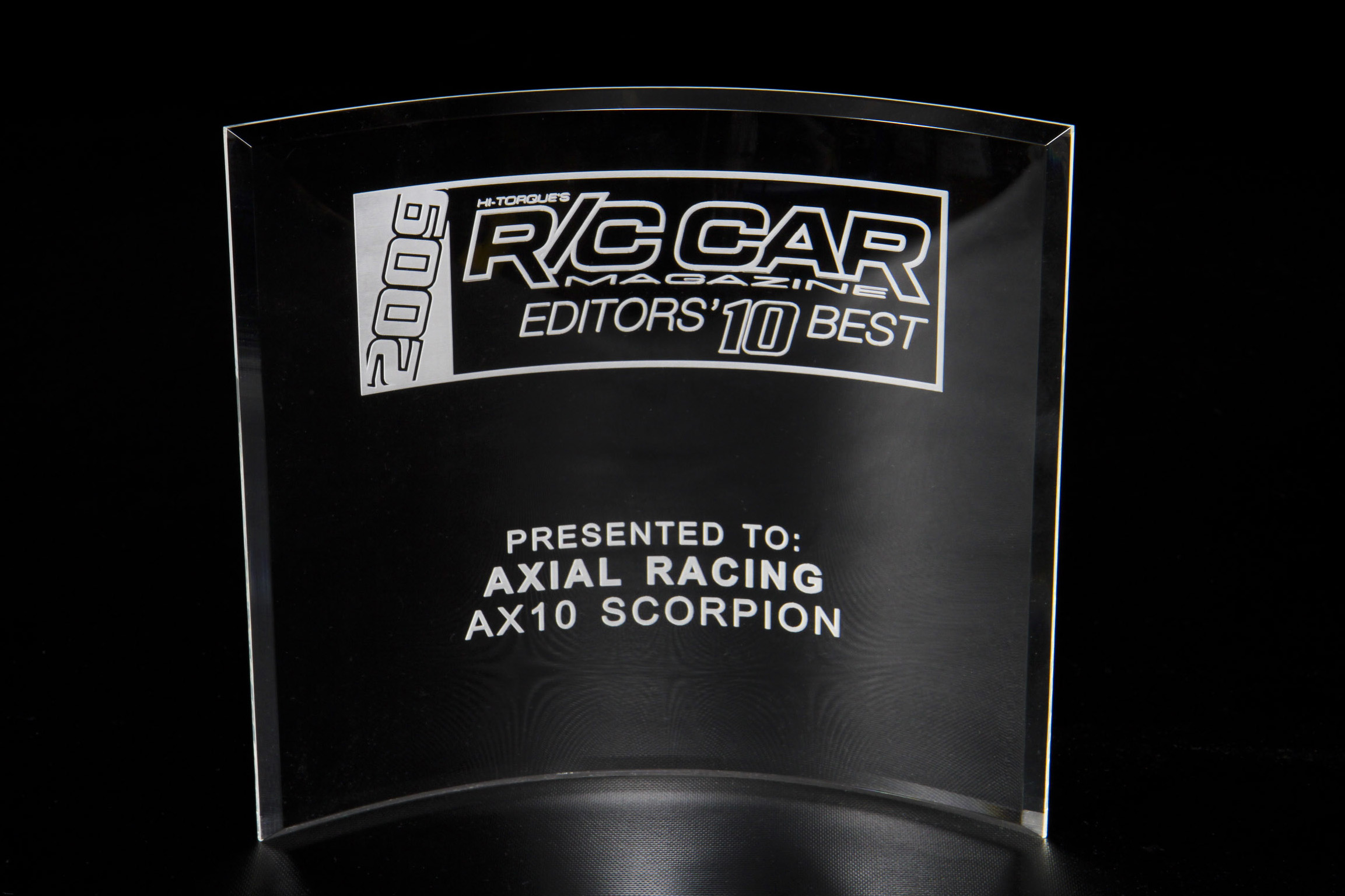 2009
R/C Car Editors' 10 Best AX10 Scorpion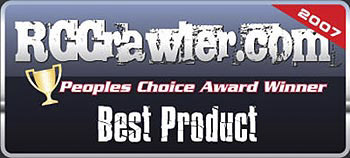 2007
RC Crawler Best Product AX10 Scorpion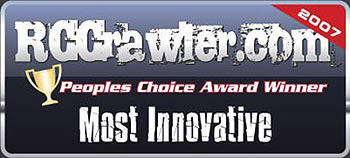 2007
RC Crawler Most Innovative AX10 Scorpion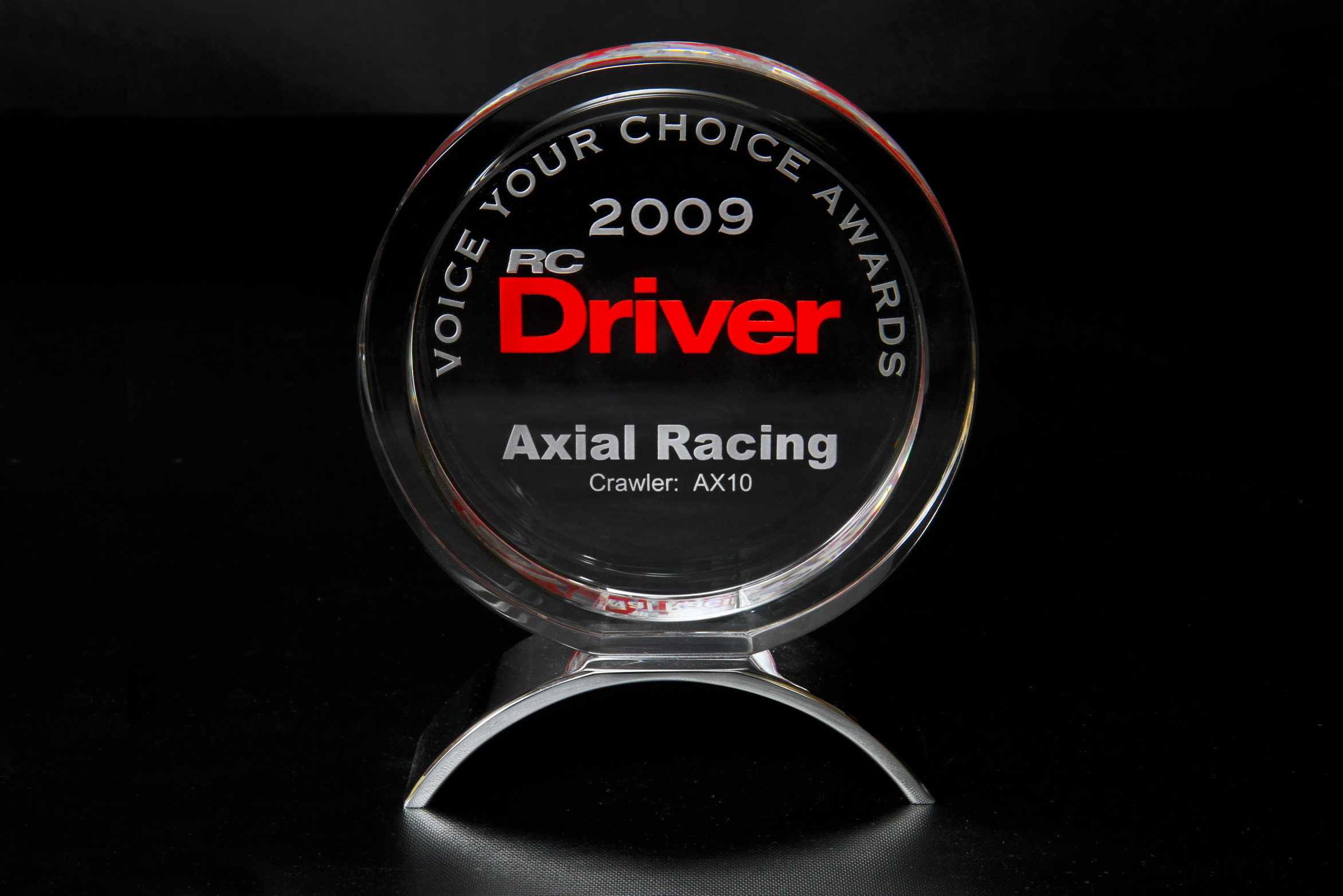 2009
RC Driver Best Crawler AX10 Scorpion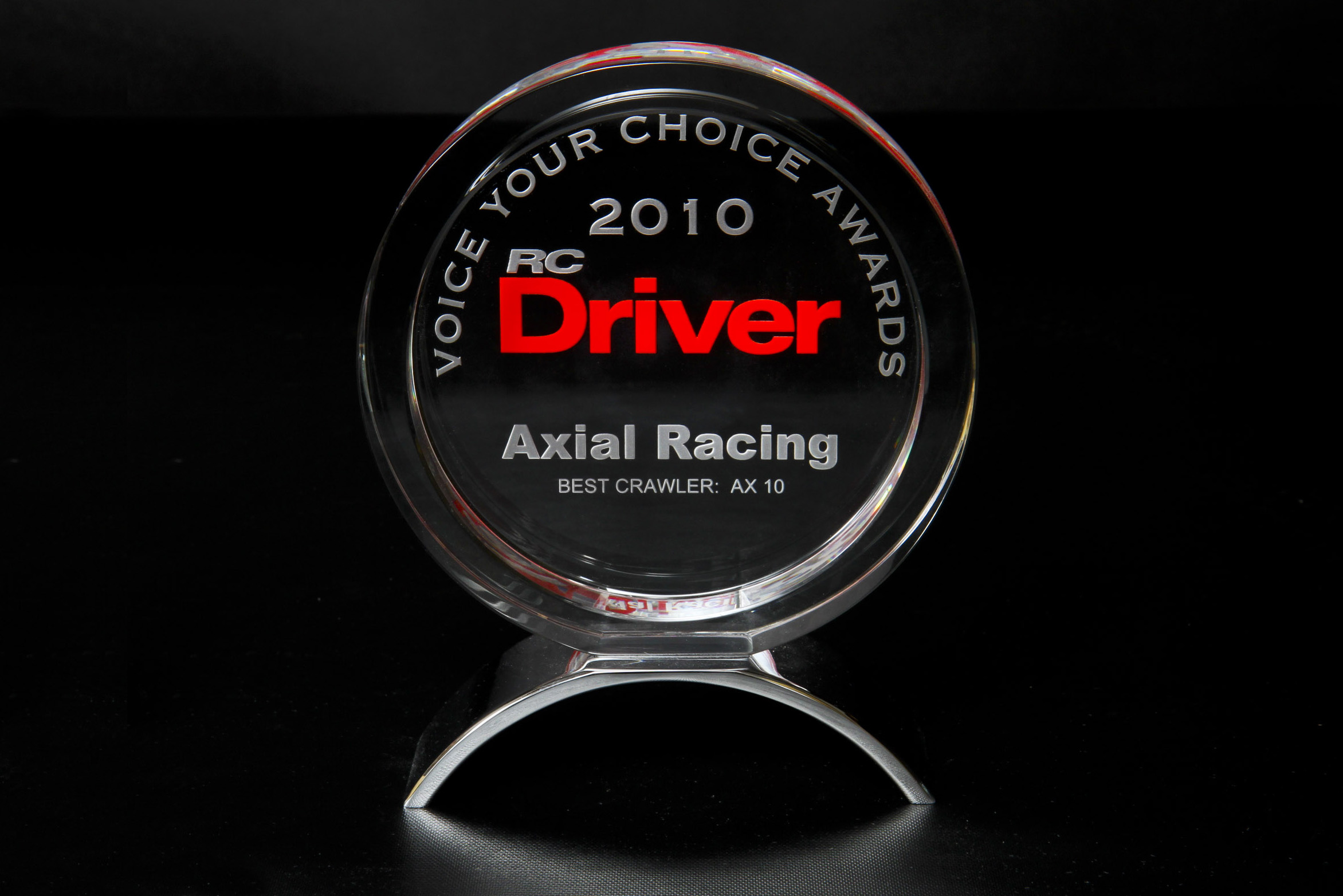 2010
RC Driver Best Crawler AX10 Scorpion
2007 - RCCrawler.com "Best Product" - AX10 Scorpion
2007 - RCCrawler.com "Most Innovative" - AX10 Scorpion
2008 - RC Car Action Magazine "Truck of the Year" - AX10 Scorpion
2008 - RC Car Action Magazine "RC Innovation" - AX10 Scorpion
2009 - RC Car Action Magazine "Readers Choice" - AX10 Scorpion
2009 - RC Driver Magazine "Voice Your Choice" Best Crawler - AX10 Scorpion
2010 - RC Driver Magazine "Voice Your Choice" Best Crawler - AX10 Scorpion
2010 - Xtreme RC Magazine "XRC Best" - SCX10
2011 - USRCCA "1st Place - 2.2 Class" - XR10