Posted: 2/9/23
Dig Explained
Understanding Dig and How to Use it
By Matt Higgins
Ever see an Axial SCX10 III carve around a tight turn that leaves other crawlers doing the off-road version of a 3-point turn? That SCX10 III has dig. From Early Broncos to Jeep Gladiators, many Axial RC rock crawlers have this feature called dig, but what exactly is it? Well, dig is technology borrowed from the full-size off-road world. It's more accurately called front dig in our application (more on that later) and its primary purpose is increasing maneuverability (it has some other uses too).
Most RC crawlers have locked front and rear differentials for increased traction. Open diffs won't get you very far and selectable differentials can fail, so locked is the best option. And, while we call them lockers, RC crawlers typically have spools. There's no engaging and disengaging — automatic, selectable, or otherwise. It's just straight locked axles for maximum traction and reliability. The downside is, whether they're full-size or RC, vehicles with locked differentials just don't take very tight turns, which is something we often need to do in off-road and rock crawling situations. This where dig comes in.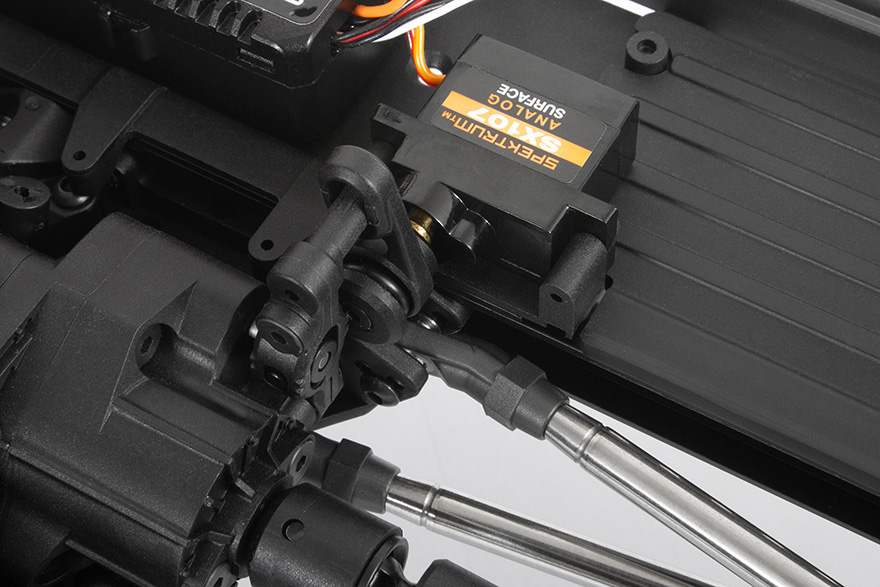 Mounted to the tail end of the transmission and operated via the transmitter, a dig unit stops the rear driveshaft and, thus, the rear axle from rotating while still allowing full power to the front wheels. When you steer the front tires hard in one direction and start giving it throttle (intermittent blips often work best), the RC crawler starts to pivot around the rear in a tight arc. If there's enough traction, it's almost like the rear is staked down as the front digs in and pulls the front around. The end result is amazingly tight turns — especially compared to the wide turns a fully locked 4WD crawler typically takes. It's called dig because one end digs for traction while the other sits, and it's called front dig because typically the front is the end you want digging and turning. There is rear dig, but while rear dig has its uses, inarguably front dig is the most common and most useful.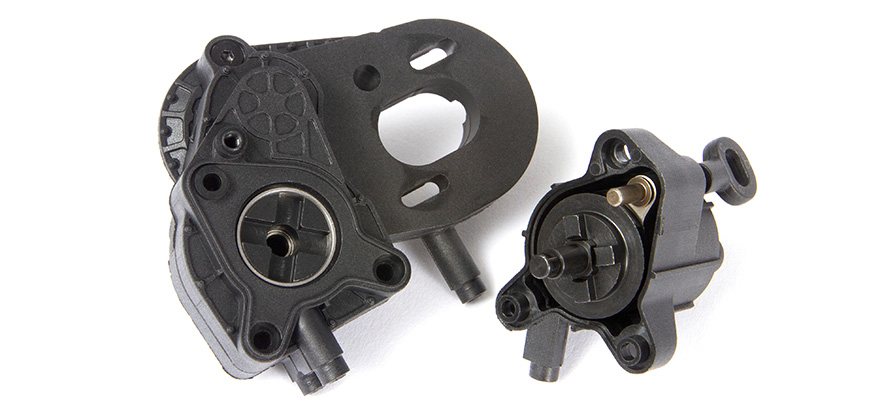 Dig works by not just disengaging the rear driveline but locking it in place. Locking it is essential to create a pivot point for the vehicle to tightly turn around. In the RC world, this is all done in the transmission. A servo actuates the dig by moving a shift fork inside the transmission that disengages the rear driveline from the main transmission gearing. It then locks the rear by sliding the rear driveline even further into a keyed piece that locks it in place.
Dig Uses
A dig unit's main purpose is increasing maneuverability, but they can also be used to slow a decent and are even sometimes used to disengage the rear on a steep uphill climb. On a steep downhill or a breakover ledge, locking the rear tires allows for slow, precise control.
Not just for hard turns, dig can also be used as a finesse move to position the front end on a desired line without moving forward. This is extremely useful when trying to avoid gates or when getting perfect tire placement means the difference between success and failure.

Dig Setup
Dig can be setup on the transmitter a few different ways. If the switch controlling the dig is programmed as a momentary switch, such as the G switch on a Spektrum DX5 Rugged, the dig will engage when and only when the push button is pushed and held. Release the button and the dig disengages. Equally common is the 2-position switch setup. Here, one position on the switch is standard 4WD and the other position is dig. You can also use a 3-position switch. It's worth noting that switches E and F on a DX5 Rugged can be programmed as either a 2- or 3-position switch. Setting up a 3-position dig control requires careful setup, but you can use one position for 4WD, the middle position for freewheel rear, and the third position for dig. This allows yet another option. In freewheel, your RC rock crawler will be front wheel drive only and the rear will freely spin.