Posted: 2/9/23
Axle Mounted Servo vs. Chassis Mounted Servo
Pick the Right Steering Setup & Servo
By Matt Higgins
When RC rock crawling first took off, the standard mounting location for the steering servo was on the front axle – most often right on top. As the segment shifted toward scale crawlers, people started figuring out how to mount the steering servo on the chassis. This setup was far more realistic looking. The servo mounted to the chassis frame rail just like a full-size truck's power steering box and the servo horn worked and looked like a pitman arm. Soon every scale rig had a chassis mounted servo (CMS).
It wasn't long, however, before scale crawlers started to push the proverbial performance envelope. More and more performance was being built into scalers as scale comps took over in popularity, and as performance became a primary focus, some builders were finding ways to mount servos to scale axles that were never meant to accommodate a servo.
The Axial SCX10 Pro offers builders both options. To help you decide which option is best for your SCX10 Pro, we've outlined the pros and cons of each setup.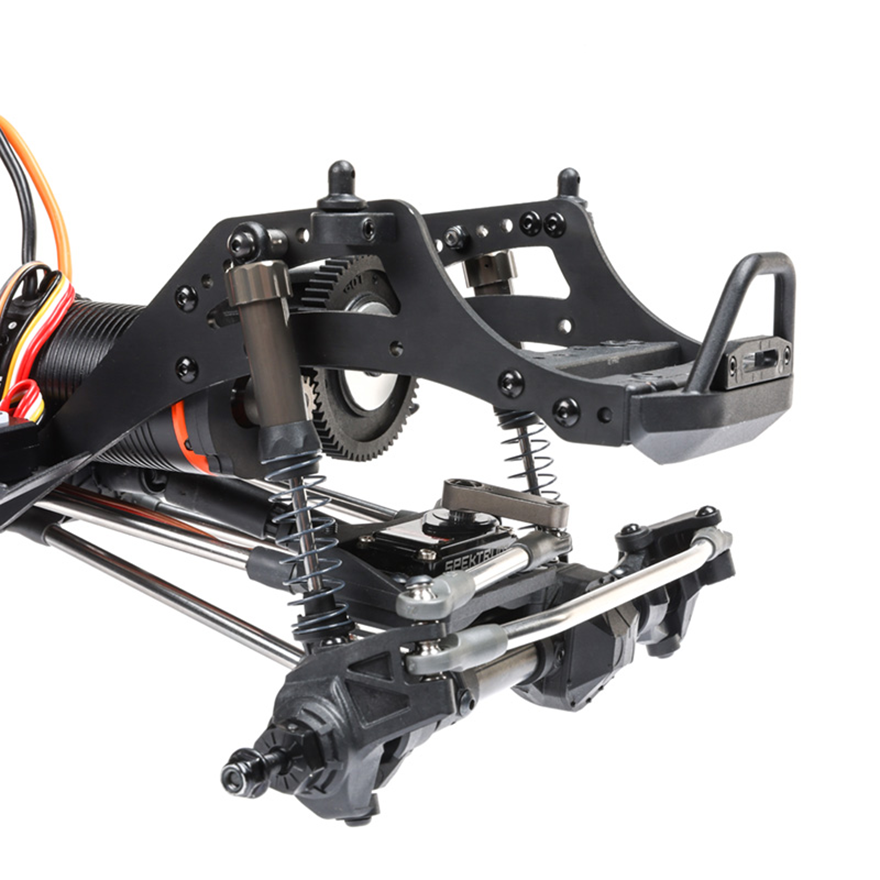 Axle-Mounted Servo (AMS)
The SCX10 Pro uses a mounting system that places the servo behind the axle. This even further lowers the center of gravity, offers increased protection, and does a better job of hiding the servo for better scale looks. In addition to the improved center of gravity, the SCX10 Pro uses a 4-link suspension with the AMS setup.
PROS
Lower center of gravity
More steering power and control
Better suspension and steering geometry
CONS
Less scale in appearance
Servo more vulnerable to damage
Loss of scale points in competition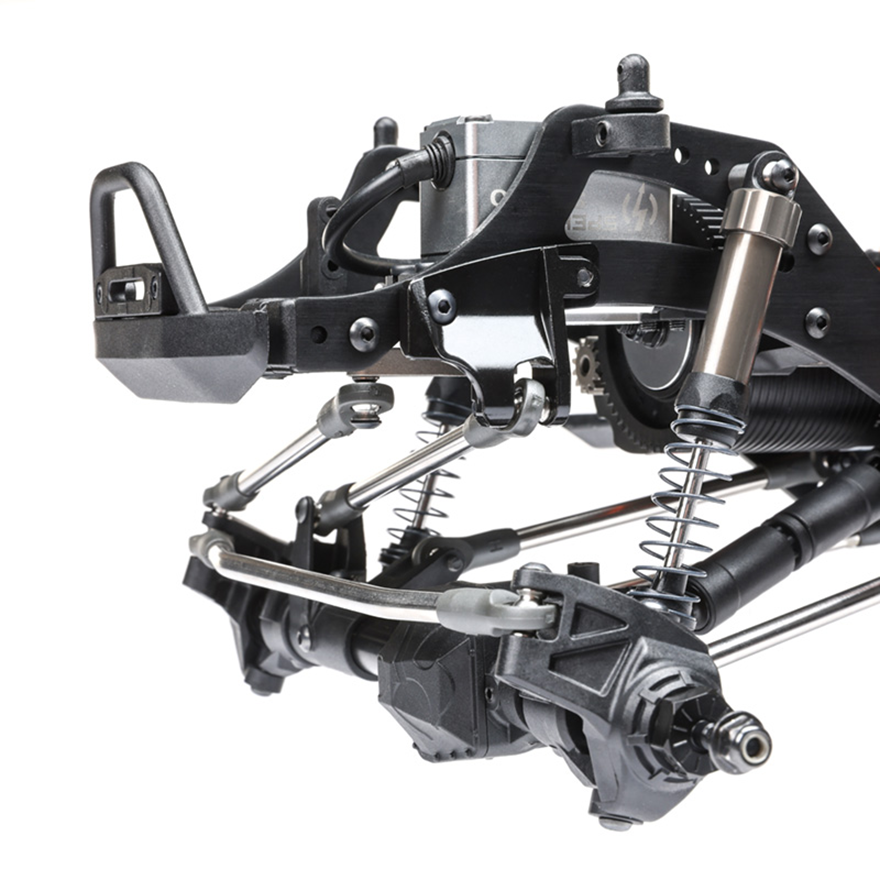 Chassis-Mounted Servo (CMS)
The SCX10 Pro chassis positions the servo as far forward and low as possible. With the CMS setup, the SCX10 Pro uses a 3-link with a panhard bar.
PROS
More scale in appearance
Scale points awarded in competition
Servo is out of harm's way
CONS
Less optimized suspension and steering geometry
Higher center of gravity
Ultimately, "on paper," AMS is a more performance oriented setup and CMS is a more scale oriented setup. But, it's important to note that servo mounting position is just one of many setup variables. A rig with its steering servo mounted on the axle isn't guaranteed to outperform a rig with its servo chassis mounted.
SCX10 Pro Servo Tips
Servos have come a long way over the years. Plastic gears and less than 100 oz-in of torque used to be the norm. A lot has changed. Servos keep getting both stronger and more durable. It's a great time to be in RC, but with more options comes more decision making. The good news is it's a lot harder to go wrong, but to help you make the perfect decision here are some tips for picking the right servo.
While not a requirement, a low profile servo is best in either AMS or CMS, but it's almost a necessity in the AMS setup. A low profile servo will be less likely to be hit in an AMS setup and it saves weight in a CMS setup, which lowers the center of gravity.
A full aluminum case provides better heat dissipation and much better durability. A full case is best but not necessarily required. At the very least select a servo with a partial metal case. You'll want to make sure the mounting tabs are aluminum.
With crawler tires being heavy, conventional wisdom was a servo just had to be strong enough to turn the tires. That, however, is very much just the bare minimum. A servo needs to be strong enough to hold position when sidehills and the whole weight of the vehicle is wanting to turn the front wheels. It's best to use a servo with at least 400 oz-in of torque. Many top competitors often use servos with over 1,000 oz-in of torque.
Speed of the servo shouldn't be completely discounted. You'll want to make sure your servo is fast enough rapidly wiggle the tires when needed. This wiggle is often done to purposefully break traction and move the front end either down a ledge or on a sidehill without using the throttle.
Even if you don't plan to take on water crossings, it's best to get a waterproof servo. Waterproof servos are simply better sealed, which means less dust and dirt inside the servo, which, in turn means a longer lasting servo. Plus, you just never know when water might be an obstacle whether you planned on it or not.
Follow @AxialAdventure on social media and be sure to post your #myAxialAdventure post! We can't wait to see where you go and what you do on your adventure!