Posted: 5/9/23
Spektrum Firma 8A Sensored Brushless Smart ESC/Motor Combo
Quick & Easy Brushless for Your SCX24 or AX24
By Matt Higgins
For good reason, one of the most common upgrades in RC is switching from a brushed motor to a brushless system. As you may know, brushless technology offers multiple advantages over older brushed motors (more on the benefits later). But, even with all their popularity, brushless options for 1/24 scale are somewhat limited. Further, a true drop-in, ready-to-go system is really hard to find for extra tiny trucks. Recognizing the problem, Spektrum has released the solution – the Firma 8A Sensored Brushless Smart ESC/Motor Combo, which is, indeed, a true drop-in system.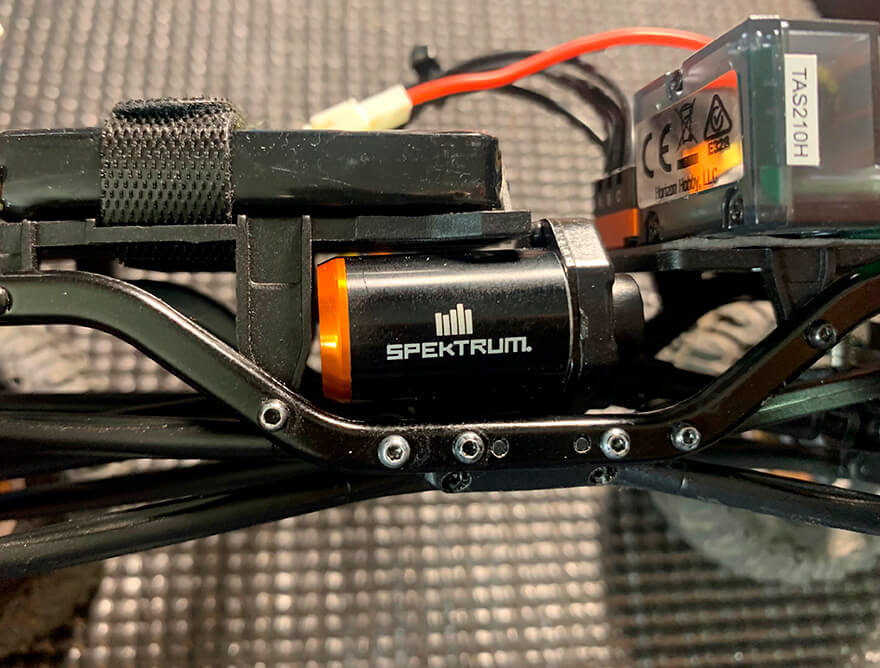 Installation
I installed the Spektrum Firma 8A Sensored Brushless Smart ESC/Motor Combo in my mildly modified Axial SCX24. As far as added bulk, this particular rig currently has oversized brass hexes so it's not terribly heavy. At only 9.4 ounces, it's only about an ounce and a half over stock weight. But, I use this truck for indoor comps, so I do plan to add more Axial brass. Combine the heavier components with some taller tires, and I'm starting to ask a lot of the stock 88-turn brushed motor on steep obstacles. I've never had an issue with motor failure or stalling in any of my SCX24s, but I still jumped at the chance to test Spektrum's brushless combo.
As is clearly the point of the Spektrum setup, installation was extremely easy. Unlike most systems, no new motor mount was required and no trimming of the battery tray support was needed. The Spektrum brushless motor fits in the stock location with zero required modifications. Other systems require a new motor mounting plate and some even require an entirely new transmission. In the case of the Spektrum, the setup and motor provide easy installation without additional modifications. Installation is definitely an A+.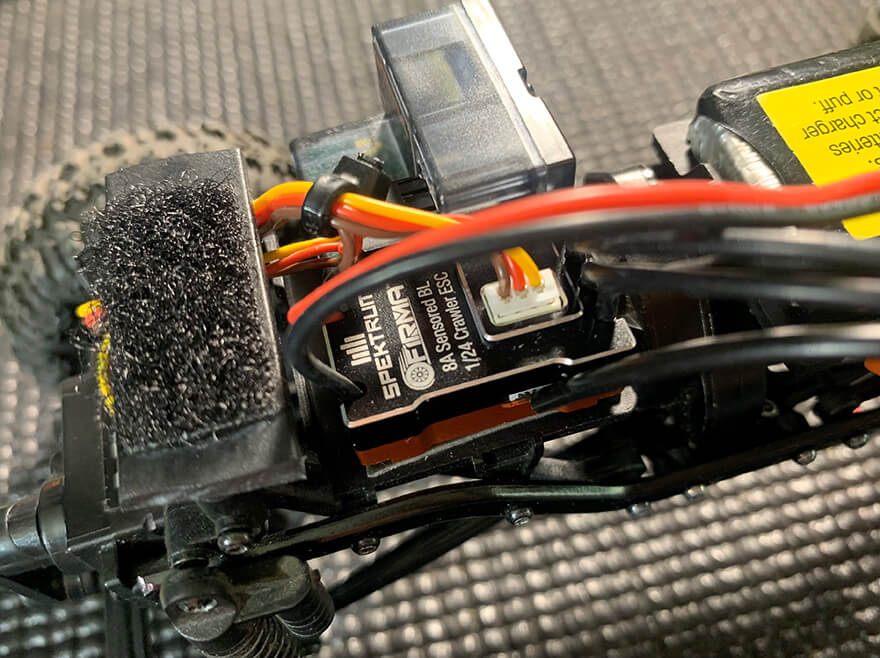 Instead of using the ESC port on my SCX24's stock ESC/Receiver (AKA 2-in-1 Receiver), I decided to take this motor swap as an opportunity to upgrade my radio system as well. My SCX24 started life as a SCX24 Deadbolt, so the included ESC/Receiver does have a channel 2 port for a separate speed control. It's important to note that not all Axial SCX24 2-in-1 units have this extra port on the ESC/Receiver. Axial SCX24 vehicles with HRZ00014 2-in-1 Receiver and HRZ00015 transmitter require a transmitter and receiver upgrade. Currently, the 2021 Ford Bronco, Jeep GT Gladiator, and Jeep Wrangler will all require upgrading your transmitter and receiver if you plan to use this or any other upgrade speed control. I went with Spektrum's SR2100 Micro Race Receiver matched with a Spektrum DX5 Pro.

Features
The Spektrum 4500Kv motor has a high-quality aluminum can with Spektrum's trademark colors anodized. More important than the looks, the motor is sensored. Most upgrade brushless systems aren't. Sensored is simply far better for crawling than sensorless. The motor also features ball bearings. The motor comes with a composite 10-tooth pinion installed, and an additional 11-tooth pinion is also included.
Like the motor, the Spektrum Firma ESC is also aluminum and features a tiny built-in on/off switch. I like the built-in switch because it cuts down on wiring, but make sure you mount the ESC where you can easily access the switch. The ESC is rated for 8 amp continuous with the ability to handle 40 amp bursts and can handle 1S or 2S batteries. I only use the Dynamite 350mAh 2S LiPo packs included with SCX24s, so I am perfectly fine with this. If you were, however, looking to run 3S, this system unfortunately isn't for you. That said, the reality is if you're running 3S or more in your SCX24 or AX24, you have already replaced all of your electronics. The absolute vast majority of SCX24 owners are going run the stock battery or a similar 2S pack. To go 3S, it would likely require a larger motor, which would make this combo no longer be a drop-in system. I have no idea what they're rated for, but I am reluctant to run 3S or more on the gauge wire and plugs being used for 1/24 scale. I've never had an issue with 2S. The plugs and wires have never been even slightly warm, but going from 2S to 3S is a 50% increase in voltage.
Back to the features, one I see as important as the size of the motor in terms of drop-in readiness is the fact the Spektrum Firma ESC comes preprogrammed for crawler use. This means drag brake and instant reverse are already set. While this is a huge plus to me, some people will want a fully programmable system. That's fine for some, but, in my opinion, most will love the convenience this Spektrum system offers.
Performance
With installation so easy, it wasn't long before I was running my Spektrum Firma equipped SCX24. Performance is fairly similar to stock, which is what I expected. Power was a solid improvement. Drag brakes were great. Good first impression thus far.
I don't have any real data benchmarks, but the Firma system is definitely stronger with more punch than stock. It's also faster. We're not talking the difference you experience when switching from a tired 550 to a high zoot brushless in your stock RTR short course truck, but it's noticeably quick. It's not too speedy. It's faster, but it's still a crawler setup. Overall, I found the throttle to be smooth and responsive. It could be a little slower and smoother, but it more than met my expectations. Now keep in mind, the current rage in 1/24 scale is to get this mega creep. This Spektrum system goes slow. It certainly crawls, but if you're looking for that fraction of a fraction a single mph, that barely moving "speed," this isn't the combo for you. And, you can expect to spend a whole lot more and you'll have to change your motor mount and maybe even the entire transmission. Point is this system is drop-in easy. It's ready to go. Ironically, when I go to comps, no one is creeping. A lot of folks want to show off super slow, but when on course, time matters. I'm seeing this more and more in 1/24 and 1/10 scale. If you want to win, you better be willing to squeeze the trigger. Technical is out and longer spans between gates is in. Is that everywhere, all the time? No, but it's what I'm seeing most.
Having run it indoors and out, I feel the Spektrum system is very strong throughout the throttle curve and delivers a noticeable power increase over the stock 88-turn brushed motor. It just doesn't have the super slow speed control some people might want. But, it's also an easy install with no additional modifications needed and it's only $89.99. I should also point out that the lack of super slow speed control was only noticeable on my manmade indoor course and obstacles. Outside on my natural course, which is dirt and real rock, it was 100% undetectable.
My final call is if you want to make sure you have the power for added weight and bigger tires on your SCX24 and you want the reliability of brushless, the Spektrum Firma system is perfect and a great value. There are other setups that suit other needs, but their final cost after buying a motor, an ESC, a programmer, a motor mount is far more than the Spektrum system. In my opinion, you really can't compare features without also comparing cost and ease of installation.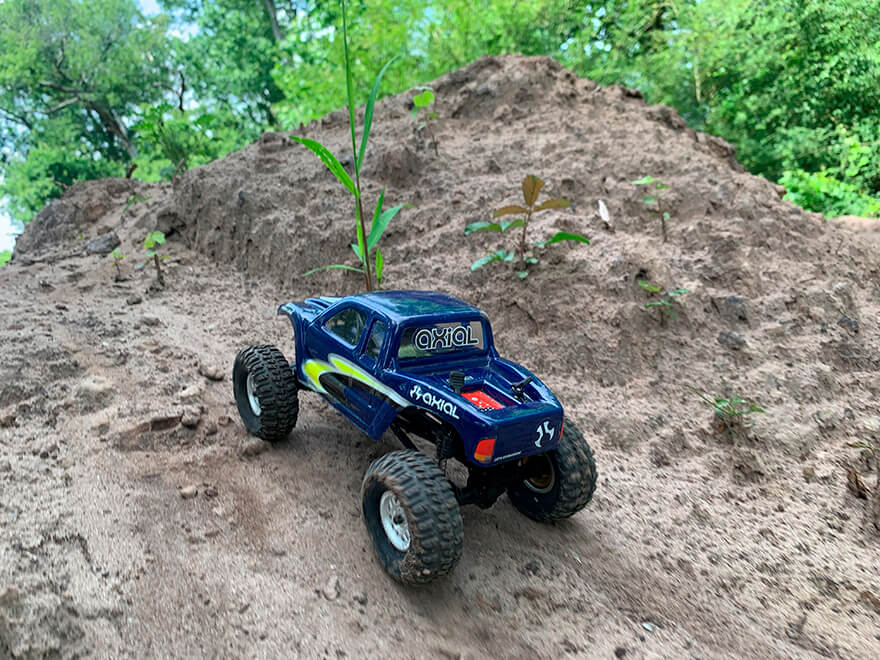 Specifications
Item no.: SPMXSEMC18
Continuous Current: 8A
Maximum Boost Current: 40A
KV Rating: 4500
BEC: 5V/.3A
Poles: 2
Motor Connector: 2mm bullet
Battery Connector: JST PH 2.0 (High-Current Ultra Micro)
Input Voltage: 1S to 2S
White pinion: 11T
Black pinion: 10T
Brushless Advantages
More efficient
Less maintenance>
Far longer life (no brushes to wear out)
Cooler operating temps
More reliable (no hung or dirty brushes)
Video Reviews
Follow @AxialAdventure on social media and be sure to post your #myAxialAdventure post! We can't wait to see where you go and what you do on your adventure!