Posted: 12/11/17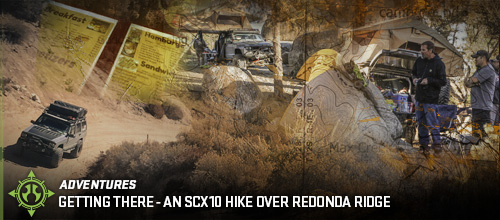 Words & Photos: Rodney Wills
Hopefully you've read these previous blog posts, building into a little mini-series adventure story:
•
Planning a SCX10 Hike over Redonda Ridge OHV Trail 1W17
•
PACK CONTENTS FOR A SCX10 TRAIL HIKE
• Axial AX90059 SCX10 II™ Trail Honcho 1/10th Scale Electric 4WD – RTR
Logistics logistics logistics, what do you mean the log is tics?
Who said tics? What log is full of tics?! Get the gas! I'm bringing bug spray! Who's got grey spray paint?! "Logisticmundo's" will NOT be televised on Telemundo at 7:00pm to protect the innocent of the children. Does that mean that it's logical to just use bondo?
The logistics of looking after your crew is like looking after your kids!  Add in adventure and the stakes increases six-fold. No, not the ones on the grill, the risk-factor! In all seriousness, six persons coming from six different directions and we only need-want two vehicles for our mission, this requires some sorting the details out! We will actually have three vehicles in use for this trip; ScottG is picking up ScottR, Rivas is driving to Schultz's house and riding with him and I am picking up Tony Phalen from his house. No, ScottK is not on this trip as he is holding down the office-fort. Three "Scott's" one office, I got it sorted! "G-K-R!" What we will be doing is traveling from our six personal locations and all descending onto a camp location nestled north west of Big Bear lake called Big Pine Flats.
This area was chosen as discussed in this previous blog post: 
Planning a SCX10 Hike over Redonda Ridge OHV Trail 1W17
(Hence the mild suggestion, "Hopefully you've read these previous blog post..."). All kidding aside, lets get on with this operation!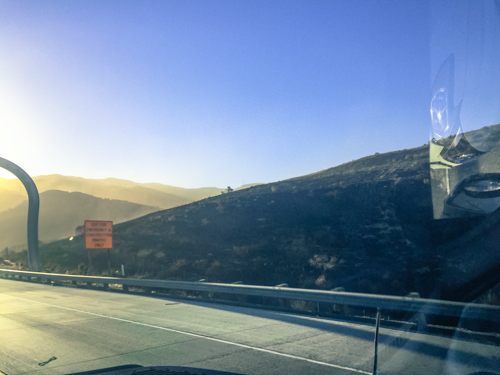 We are traveling along the 91-FWY just before the HWY-241, the area where the
Canyon Fire
broke out and took some homes.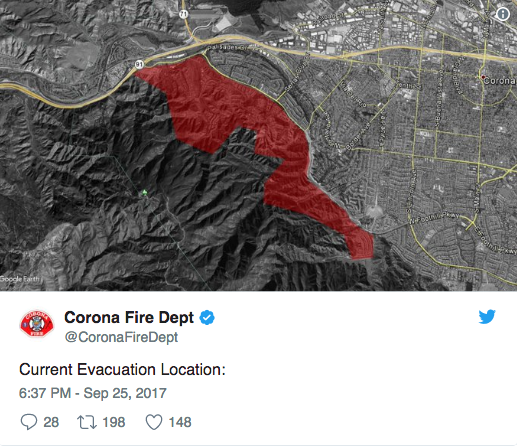 The burned homes are visibly up on our right, but what I was looking at was the "burn-dust" coming across the hills as the wind is still blowing strong. We've seen our fair share of fires in southern California and as I put the finishing touching on this  (December 12th, 2017)  "
At 230,000 acres, Thomas fire is now the fifth-largest wildfire in modern California history
" as reported by the Los Angeles Times. Needless to saw, we will have a watchful eye when we are in the woods.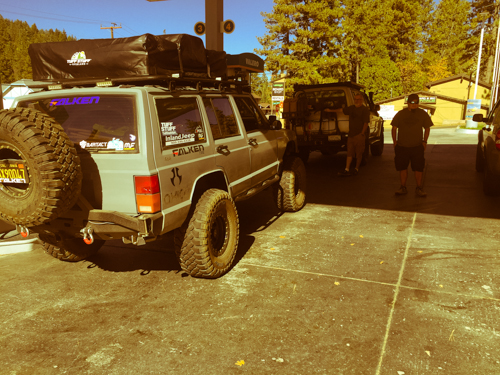 We are all traveling from three different directions to the mountain. While in route, Tony and myself were having a good chat and I drove right past my exit as my brain was thinking I was driving to King of the Hammers. Guess what we was talking about... The first two guesses don't count. We wound up coming in the same way and meeting on the road Schultz & Rivas.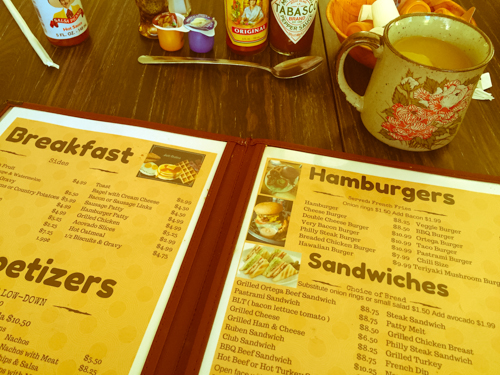 Our meeting point before going into the woods is the
Deep Creek Drive-In Restaurant
in Running Springs, California, serving Burgers, Taco's and BREAKFAST!
The last meal... It's the joke of the morning.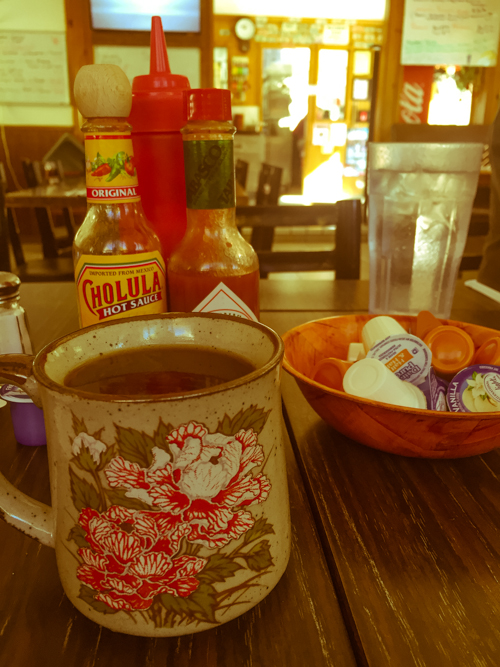 I'm enjoying my morning coffee...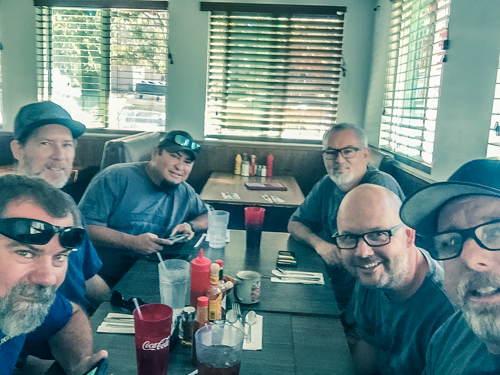 in good company with (L-R) ScottG, ScottR, Anthony Rivas, Tony Phalen, Rodney Wills (me) and John Schultz.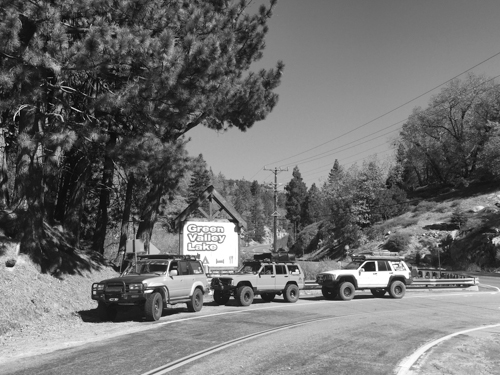 We are packed into these three rigs; the #ADV80, the #XJSchizzle and the #SHTFV.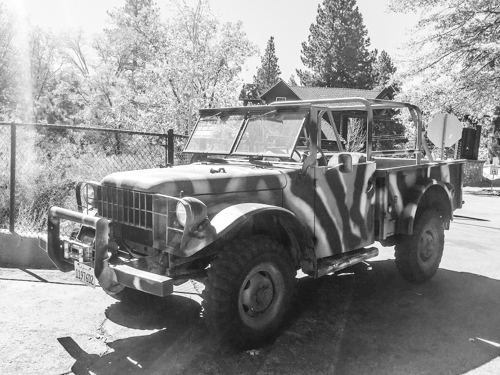 What would be funny is all six in one!On our way into Green Valley Lake, we see this rig up for sale. But someone had to go off and buy a 6X6 instead.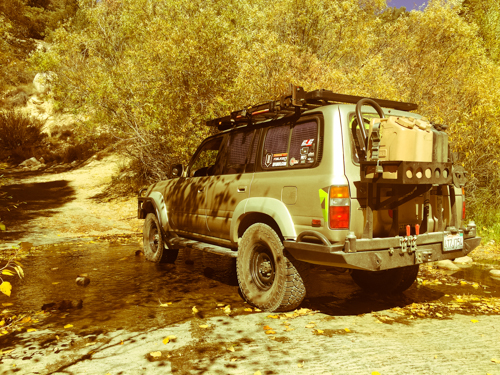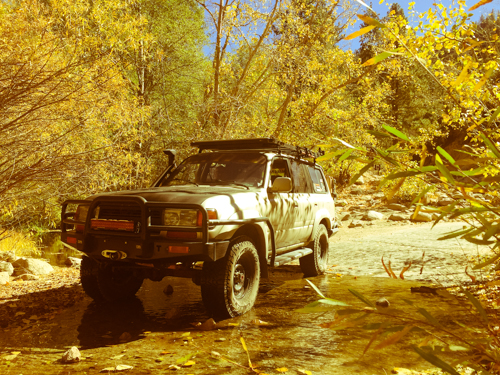 Poser shots of the ADV80 at the intersection of Holcomb Creek,
Pacific Crest Trail
, 3N16 and 3N93
Google Maps Link to this spot
. This dang PCT trail just keeps talking to me! While the thought of through-hiking it is everyone's dream, it's truly that, a dream.
BUT, we can weekend section-hike southern California section of the Pacific Crest Trail! Thus, I have recently purchased the book
Hiking the Pacific Crest Trail: Southern California by Shawnté Salabert
.
On with the show: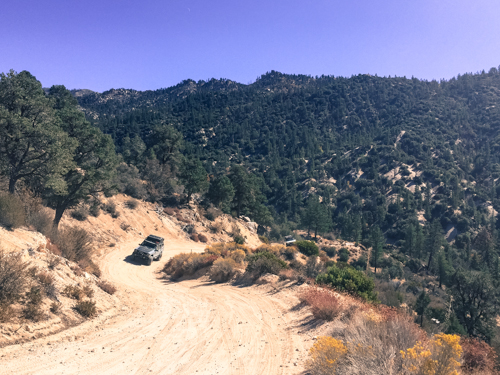 The crew coming up from the Holcomb Creek / PCT crossing towards the Big Pine Flats Area. The "Family" campground there is closed for the winter season, but I didn't want to stay in there anyhow.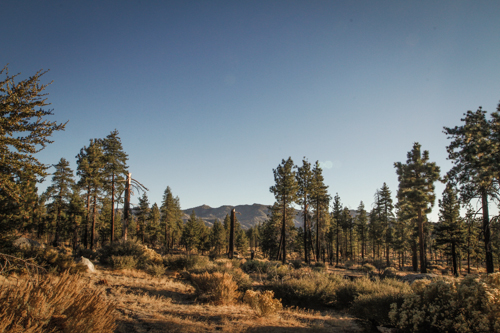 I like camp spots that are as remote as can be, but for this trip I need convenience as the trail that we will be hiking ends near by. This is YP
#7
.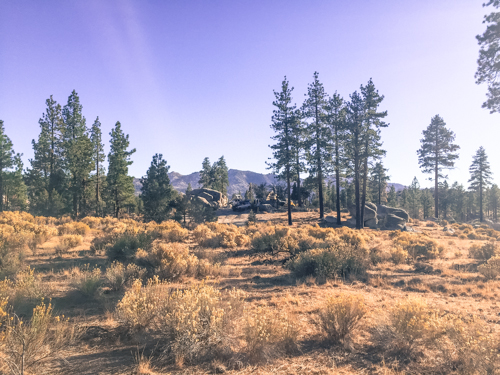 We make camp on this small hill top just off the road.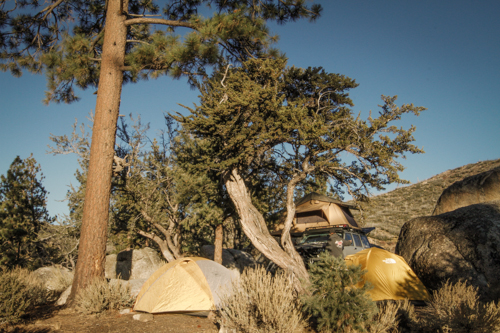 Tents are located as best possible out of the wind.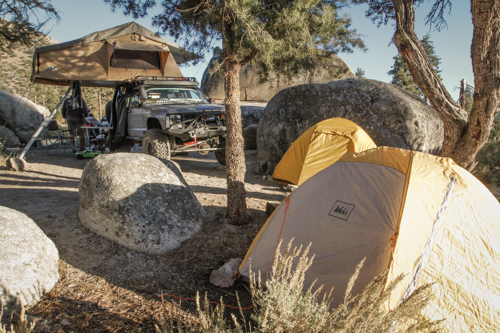 But those RTT guys throw caution out with the wind just toss it up where'evz!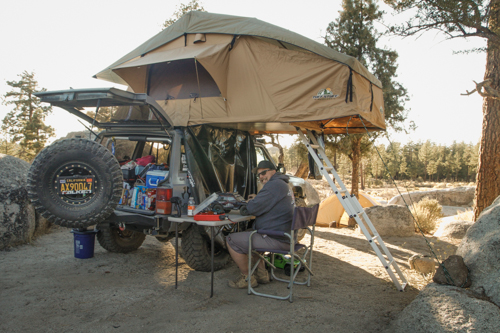 The XJSCHIZZLE remote R/C pit-camp compound with included RTT overland-spec kit with ground anchors. Note that license plate...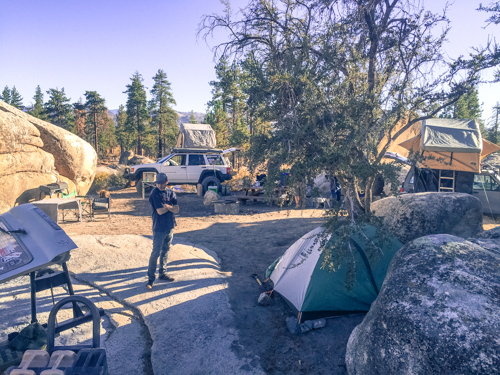 SR looks on and informs us we are doing it all wrong! This needs to be drilled and hollowed out of the rock, add the front porch and fireplace here please.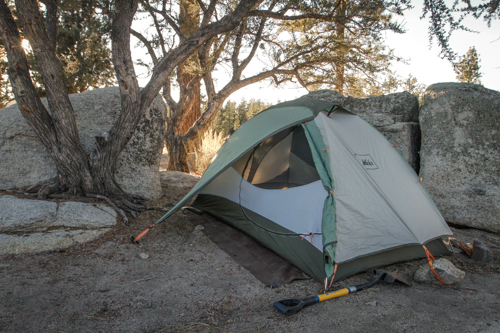 Camp GCRad1, I try to be the minimalist of the bunch.
Once camp was set, an SCX10 DEADBOLT DRIVER CHALLENGE BREAKS OUT!!!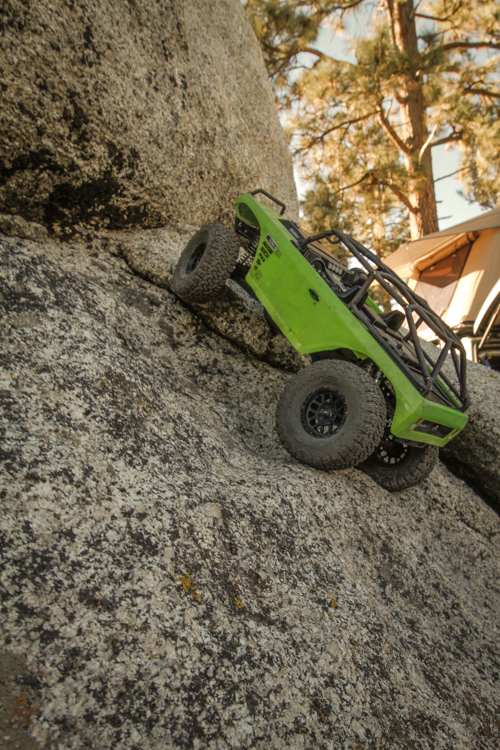 Granite's got grip! At least I hope it's granite, I'm no geo-rock-hound, but we are hound dogging this rock with the SCX10 Deadbolt with a game of RC horse of course!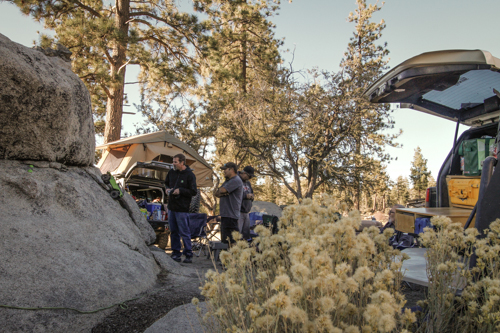 The game play rules are simple. One rig, everyone gets a chance on the wheel. Roll-3, pass the wheel. Follow the leader, standard issue camp-rules.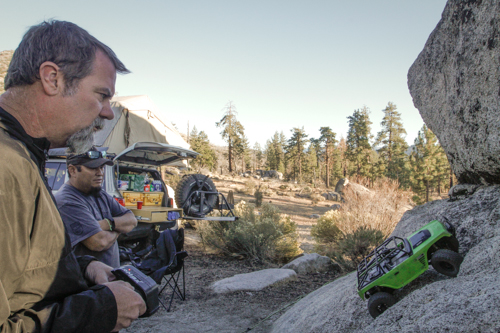 ScottG - still got game! Look at that concentration! This is serious! Big bragging rights are on the line! The fun of R/C -
this is as PURE AS IT GETS!
The wind was a bit howling as the night set in. It was a bit cold and no fires were allowed at this time due to the high wind. With the recent fires we just had, we didn't want to contribute to the destruction so we didn't have a camp fire. Bit of a spoiler. We went to bed early thinking we would get some sleep and awake early, charged and ready for tomorrows pursuit....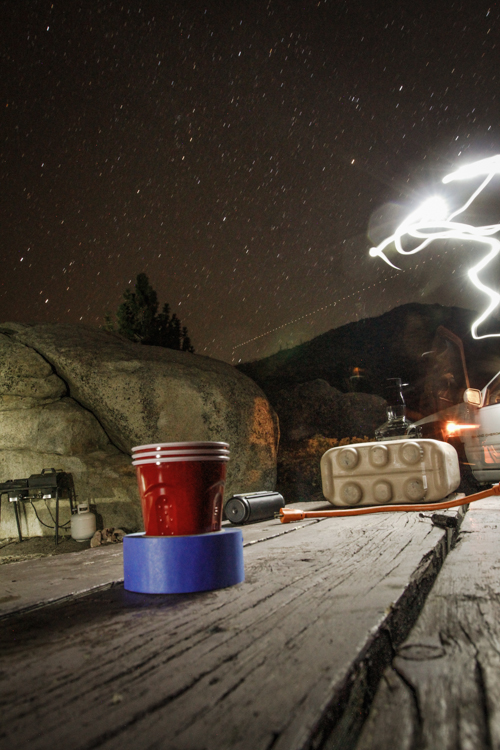 WRONG!
1:00am and EVERYONE IS AWAKE and crawling out of their tents.
The wind had died down by this time, but we were still awake.
We mill about in camp for a short bit, raid the snacks and back off to bed.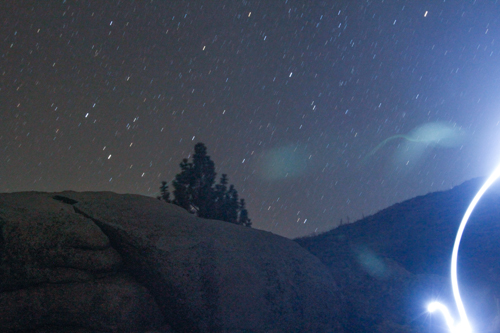 I snap off a couple of long exposure with the camera sitting on whatever was available to hold it steady enough.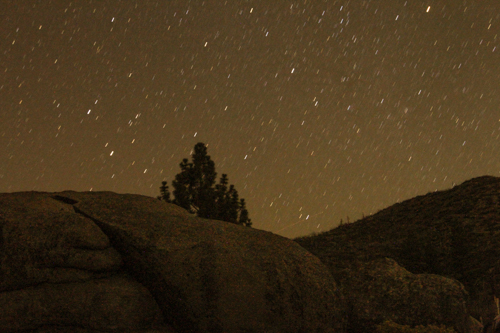 Time to try and get some sleep! I think the anticipation in killing me!
#SCX10LIFE
• Planning a SCX10 Hike over Redonda Ridge OHV Trail 1W17
• PACK CONTENTS FOR A SCX10 TRAIL HIKE
• Axial AX90059 SCX10 II™ Trail Honcho 1/10th Scale Electric 4WD – RTR