Axial -
Item No.
AXID9045
1/10 Wraith Spawn 4WD Rock Racer Brushed RTR
(1) RTR Axial Wraith-Spawn with 2.4GHz Radio, Motor, ESC, and Painted Body
(1) User Manual
(1) 6-cell 7.2V NiMH stick pack or 2-3S Standard or "Shorty" LiPo with T-plug
(1) Compatible Charger
(4) AA Batteries for Transmitter
Introduction
The Axial Wraith™ Spawn is packed with performance features. This full bodied version Wraith retains many of the components that made this vehicle famous. The virtually bulletproof AR60 OCP axles are ready take the Spawn through its paces whether blasting through the wide open desert or hammering its way through the toughest rock trails. The Ripsaw™ 2.2 tires are a proven true grip standard, wrapped around industry proven Method IFD™ beadlock wheels. Whether you are rock racing or just backyard bashing, the Wraith™ Spawn is ready for action.
Features
Full tube composite chassis
Four wheel with locked differentials and offset pumpkin for more ground clearance and a better driveshaft angle, AR60 OCP-Axle constructed from high strength, low flex composite material, axle tubes are reinforced and beefed up with a boxed-in axle truss to distribute stress over a larger area
2-channel pistol grip transmitter with steering and throttle trim and reverse
Tactic TSX45 metal gear steering servo with 151 oz-in of torque, metal gear train and dual ball bearings
AE-5, waterproof ESC which can be switched between LiPo and NiMH battery types with a simple jumper, 3S LiPo compatible
20 turn brushed motor
Dual pad slipper clutch for added surface area
32P spur gear for high-torque applications
Retro styled SUV body with realistic driver figure complete with race suit and three interchangeable helmets, motocross, open skull face or motorsport version, body is also compatible with Wraith, AX10 and SCX10 chassis
Battert tray sized for standard stick pack and LiPo packs up to 1.8x5.9x1.1" (47x150x28mm) in size
Waterproof receiver box with silicone seals for antenna, servo wires, and receiver box lid
True four link optimized to reduce axle steer, and to have the proper amount of anti-squat and roll characteristics
Composite body, oil filled shocks
Method IFD (interchangeble face design) beadlock design wheels, black in color, adjustable breather holes for fine tuning tire performance
Ripsaw 2.2 Tires
Video Overview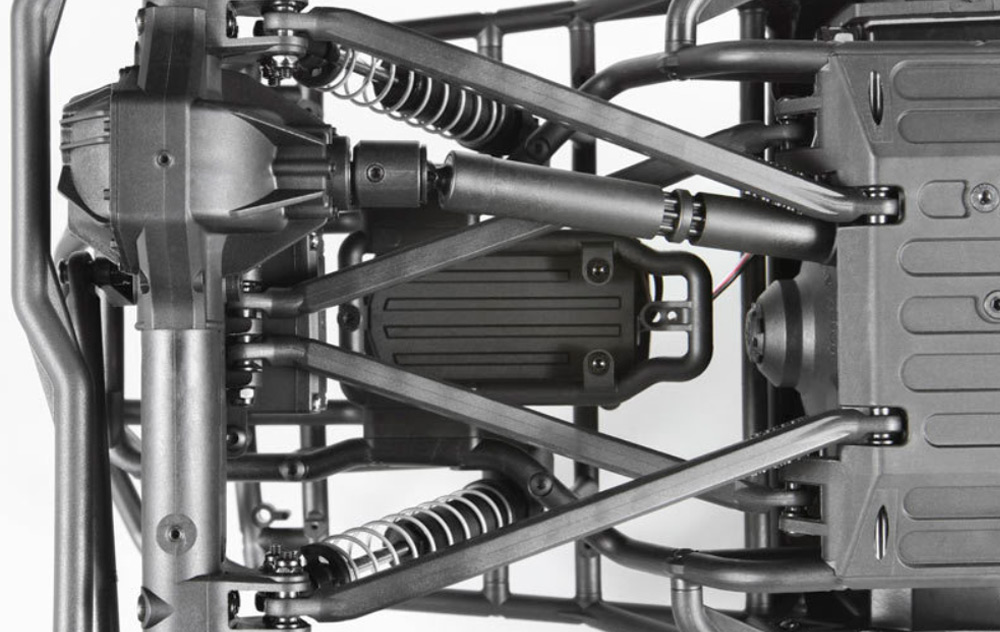 4-Link Suspension
The suspension geometry utilizes a 4-Link design which is optimized to reduce axle steer and to have the proper amount of anti-squat and roll characteristics. The 4-Link system also aids against suspension wrap-up in high power applications.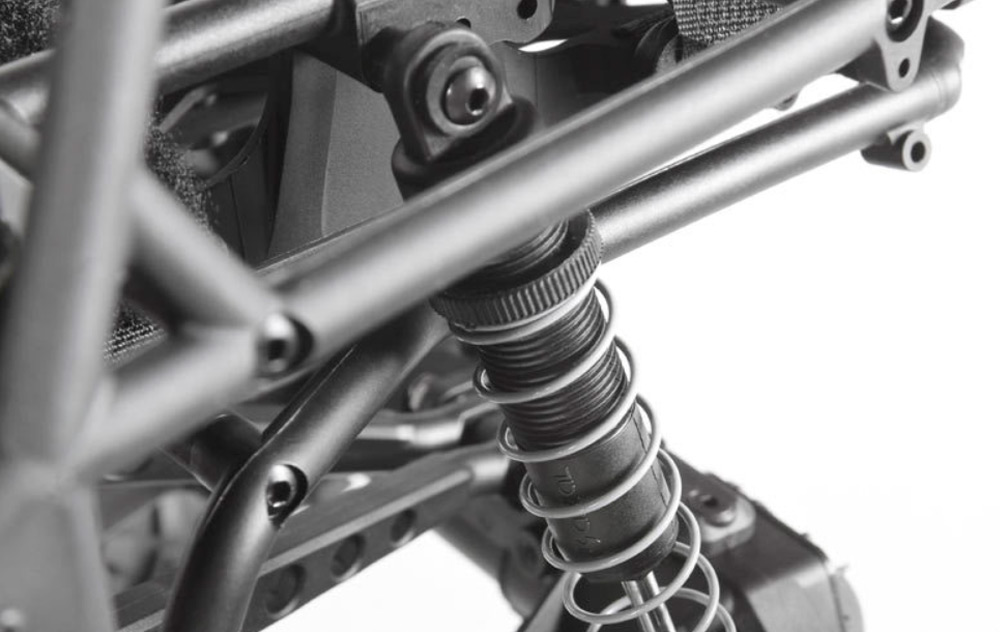 Tuned, Oil Filled Shocks
Finding the right spring rate can be tough. Axial made it easy for you by including what we found to be the right balance of high speed and harsh terrain handling. The softer spring rate keeps the Wraith™ on course and ready for your next obstacle!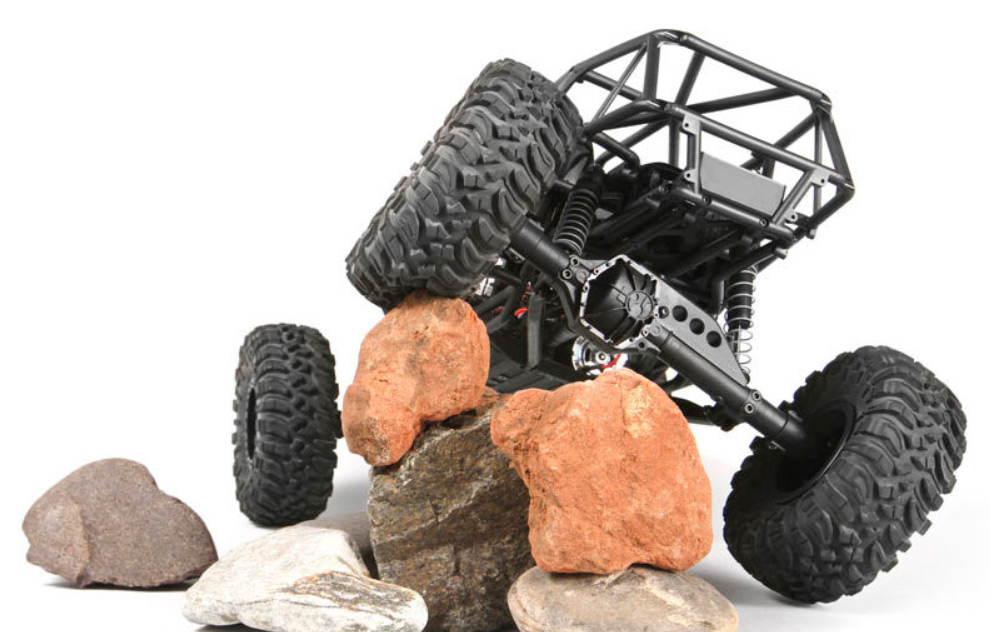 The Most Versatile Platform
The Axial Wraith™ changes the game with its impressive 1:1 scale looks, high-speed monster truck "bashability," and technical "crawl" capabilities. The Wraith™ is the most versatile vehicle satisfying the needs of a wide range of enthusiasts.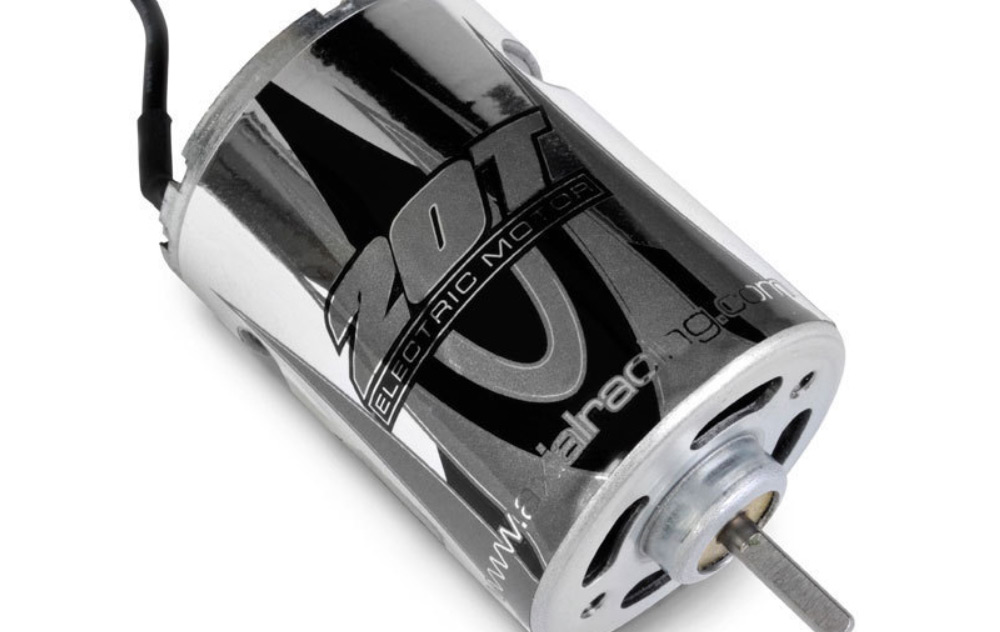 20T Motor
Tear up the terrain, be it flat out desert, rocky roads or crawling!
PRODUCT SPECS
Wheelbase
14.0 in (355mm)
Servos
Tactic TSX45, 151 oz-in
Product Weight
5.45 lb (2.47 kg)
Completion Level
Ready-To-Run
Product Height
9.1 in (232mm)
Product Width
11.2 in (285mm)
Ground Clearance
2.8 in (72mm)
Product Length
19.25 in (490mm)